James "Smitty" Smith
Diesel SC / CPPS Certification
To: Business Owners, Coaches, Trainers, Fitness Pros
The Most Important Lesson I Ever Learned
(The Hard Way):
Your business will not grow if you don't grow.
The "Big Break" You're Waiting for Will Never Show Up Unless You Learn this Lesson.
Don't Make This Mistake.
Before I tell you about this event, to give you an idea how powerful 567 Academy is…
5 Men have tattooed 567 on their bodies. This is life changing stuff…
Most of us want to earn more money—from our careers, businesses, certifications—you name it.
If you're at that stage of your life where money and making more of it is what matters, I get you. 100% I understand what it feels like.
In the beginning, all I wanted was more money. Part of the reason why is because I never had any growing up. I had this burning desire (maybe you've felt it) to live a better life, to have all the things that I dreamed about, to do better for my family and my kids—to give them a better life than what I had growing up.
I did what you've done. School, a job, hard work from 9-5, working at night after work on my passion (helping others get fit) after my day job was over—
Early on in my career as a business owner (tell me if this sounds familiar):
If I wasn't at work I was at the gym…

If I wasn't at the gym I was on my laptop posting workouts…

If I wasn't posting workouts I was working on my website…

If I wasn't working on my website I was taking another online marketing class…

If I wasn't taking another class (or reading a book, or blog, or whatever) I was looking for something NEW to read…
I was busting my butt because that's what success requires.
Or so I thought…
Before 567 Academy:
I was nearly divorced, working 80 hours a week, barely able to make my $250 rent at my subleased space in MMA studio.

After 567 Academy:
Now I'm happily married, two kids, no full time job anymore, two moves into a newer and bigger location and making more money.
How Hard Work Ruined
Nearly Everything I'd Ever Built
But here's the truth you need to understand:
All this time I was working hard, I was really just bullshitting myself.
What I was really doing was…
Working so hard I was slowly losing my family…

Working so hard my wife and kids never saw me…

Working so hard I was burned out all the time…

Working so hard I my friendships all faded away…

Working so hard to make money, build a business, and be successful that I was destroying my life.
If you think hard work is what it takes (and all it takes), you're going to end up living this story yourself.
Before 567 Academy:
• 4k month at the gym and working multiple jobs
• 20 gym members
• living at my moms
• barely able to take care of my daughter
• In a toxic relationship because she helped take care of my kid
• working 16 hour days everyday and not making any money

After 567 Academy:
• hit 40k in a month/ steadily bringing in over 30k/month
• two full time employees
• own my own home
• doubled my gym space
• have close to 200 members and have built an amazing community around my gym
• have the flexibility to spend as much time with my daughter as I want
Don't let this be your story.
I don't want you to run yourself into the ground like I did.
Because once you learn that you can have a nice house, a nice car, nice things—that you can be well known, respected in the industry, have more money than everyone you know—you're going to work harder.
You'll work harder to have more.
You'll work harder to provide more.
And you'll wake up one day and realize that you really have nothing.
I Ended Up With 
EVERYTHING

,
But I Had Nothing Because


I Lost What Mattered Most

I've seen way too many entrepreneurs and coaches do this. You've seen it too. Maybe you're already feeling it.

It's the moment I had where you realize all the milestones you missed because you were out there chasing more money.

You realize you can't remember your kid's first word, what your wife's favorite food is (because it's changed in the last 2 years you've had your heard down churning), or even when your last romantic, stress free night out was.

You'll realize (like I did) that your family wants you and you want your family—and no one cares about the extra money anymore.

If you work hard, it will happen. I guarantee it. That's why it's so important to understand what I'm sharing with you right now.

I got to this point and realized that I lost "WHAT MATTERED MOST"—or (more like) I never had it to begin with.

I was doing this for money, still working hard for the sake of working hard, and in the process, I had lost what really mattered to me.
Before 567 Academy:
In a toxic relationship. Filing for bankruptcy.
Hit rock bottom, very low income.

After 567 Academy:
In an awesome relationship in which we have an 8 month old healthy loving son.
Own my own gym, opened up 8 months ago, have 100 members and broke 15k in that short time.
Live and work in my favorite town, both home and gym are down the street from the beach.
Building a second business for running events for extra revenue stream.
Finances are under control, supporting my family. Working on five year plan to buy a new home.
Have one employee and an intern.
Living the dream and happier than ever.
You Need To Be Careful.
Because few people teach the most important
part of the puzzle.
(In Fact, Only One Group I Know Even Talks About It)
The moment I realized I had lost what mattered most was a major turning point in my life. I felt like I had lost years of my life chasing nothing of consequence—nothing that truly mattered.
You don't need to be at this turning point yourself to understand how it happens…
Up until this point of my life, I had focused on how to earn more. I had read the books, taken the courses, attended seminars.
I had a great career.
I was working at night building my business.
I could tell you all about what I did to get to this turning point—all the courses I bought, the books I read, everything—but what you really need to know in order to avoid reaching rock bottom and overworking yourself is this:
You can take all the marketing classes in the world…

You can attend all the motivational seminars you want…

You can let every guru out there sell you more gimmicks …

You can keep working harder and harder…

You can buy all the products, attend all the mastermind sessions, everything…

You can listen to all the guys out there who want to tell you about their Ferrari and show you how to live like a king in the Hollywood Hills…
But nothing will prepare you for the moment you sit down and realize that you've done all of this work, you've done everything you were supposed to do only to discover that you'll never really be "fulfilled."
The Lack of a Focusing on What Mattered Most Kept
My Business from Growing.
The reason I wish I knew this sooner is because I thought that I was doing well before I learned how to find my "why" (and before I got the support I needed to balance my life and business).
I thought I was making "real money." My job was making me money. My side-business wasmaking me money.
Before I really broke down, I thought I was satisfied.
But then I learned that your business really can't grow unless you do.
For so many years, I was stuck in the wrong mindset. I was chasing money instead of true passion, I was doing it alone, and I was doing it without support.
Nothing I had ever learned had prepared me for what I was about to experience.
Before 567 Academy:
I was a struggling gym owner/trainer.Barely making any money with only a few members. Working minimum wage jobs on the side.

After 567 Academy:
Now we are growing steadily every month.My wife and I both do this full time. We have the makings of a real business!
The Seminar That Changed My Life And Business Forever.
One night, out of the blue, I stumbled upon a link one of my fitness friends posted online and little did I know, when I clicked on that link, it would change the course of my life and my business forever.
The link took me to a video for something called "GFGI."
It's now called 567 Academy.
The more I looked into it, the more I learned about what my business and my life was missing.
The more I read, the more I watched, the more I discovered just how powerful this seminar was for so many people.
I took a chance and I signed up.
On October 1st, 2010, I entered a packed conference room at a hotel in New Jersey for my first 567 Academy Seminar.
At first, I thought it was going to be just like every other seminar I've attended (the host was going to sell me something).
Everything Changed the Moment I Met Paul Reddick.
Before 567 Academy:
Living in hell and working at a corporate job that made me feel like I was walking to my own execution every single day I went to work.

After 567 Academy:
Living my dreams and living life on my own terms. I am inspiring others to chase their own dreams and conquer their fears and struggles.
Who is Paul Reddick?
The Marketer, "Guru," and Coach Behind Some of the Biggest Brands and Names in the Industry…
Very quietly, without talking about how "EPIC" his life is, without spouting off about working from the beach, or driving 15 cars, or any of the other nonsense you see today's so-called"gurus" talking about, Paul helped some of the biggest names in the industry build their brands.
You may have never heard of Paul Reddick—but these guys have:
Before 567 Academy:
I joined a few months after a move to a completely new state (not knowing anyone but my wife) in an AWFUL subleasing situation and one paying client to my name, all while working a shit job I absolutely hated.

After 567 Academy:
• quit the job I hated
• opened my own facility two years ago and just expanded to double the size-have a team of 3 coaches and an admin(working a hell of a lot less)
• am on pace to generate $250K this year in revenue
• I'm making a REAL living doing something that transforms lives and I'm not working 16 hour days to do it.
"I never would have thought a one day mastermind with Paul would literally change the course of my business. From managing my facility to helping expand and develop our certification, Paul's insight has been invaluable."
"Paul is extremely generous with his time and energy. He's detail oriented and can cut through the fog in your business. He's a reliable teammate and a solid operator."
"If I had to name the number one factor that has contributed to me taking my startup online business from my first sale to almost 7 figures in under two years, I would undoubtedly answer… guidance from those that I respect and have proven track records before me. Paul Reddick tops this list for me."
"Paul helped me take my business from barely afloat to a worldwide authority in its niche. He's taken me from financially unstable to financially free and secure, and most importantly, Paul gave me my life back. Paul succeeds as a coach because he cares as a person."
"Paul really opened my eyes to opportunities in my business I didn't see–he's borderline genius. He has an amazing way with words that has helped with my marketing pieces. Thank you so much!"
"The most important thing for me was the focus on creating a real, living automated business that brings in daily sales instead of relying on launches and random promotions. I finally feel like I'm headed toward a stable, long-term business which I didn't have before."
"Paul not only helped me get my business off the ground, he was one of the major factors in figuring out I even had a winning idea to turn into a business. He's been there to bounce ideas of his own that always pan out. There's no way I would have been able to create a business and have my first 6-figure month just 4 months later without his help."
"Paul Reddick changed my life. And I'm not just talking about helping me with my business. Paul and GFCI showed me how to reconnect with my family and the other important people in my life. Having my business grow beyond anything I could ever have imagined also became simple. Paul told me to do something and I did it without hesitation."
"I've known Paul for years now, and have great respect for his marketing savvy (and especially his ability to end up where the money is). I've even done a few biz-oriented favors for the dude, knowing that having him owing me one is a powerful tool when I need it – all prior advice he's given me on specific projects has been golden."
Paul is an Entrepreneur-Maker.
Here's What Happened When
I Sat Down with Him at this Seminar:
I "sort of" knew what I was getting into—one of the "big minds" of the fitness industry was about to share with me his secrets. He was about to help me build a brand just like the big names he's helped mentor.
I was attending 567 Academy Seminar because I wanted to make marketing easier…

I was ready to learn how to increase ROI…

I was prepared to copy down what everyone else was doing…

I was ready to learn fitness biz secrets I knew were not shared anywhere else…
So, I sat down and got ready to take some notes about making more money because that's what these things are about, right? (and that's where my mind was at the time).
That's when Paul Reddick came over and said to me:
"I'm going to peel you like an onion."
My heart leaped out of my chest immediately thinking that this wasn't going to be just another marketing seminar.
What happened over the next 2 days changed my life, changed the course of my business, and changed the legacy that I will leave for my children and my family.
Before 567 Academy:
Had every idea of what I wanted but didn't have the self believe that I can actually achieve. I was lost and everything was linked to my demons with in

After 567 Academy:
More confident and loving and living my purpose. GFGI didn't teach me how to succeed in business you can learn that in a book. GFGI taught me much much more than that, how to unleash my greatness upon this world. And I'm not even close to being done.
"I'm going to take away all the layers of excuses, we're going to answer all the obstacles, and you're going to earn enough to quit your job within the year."
I had a TON of obstacles that I threw at Paul, the seminar hosts, and the guys in the room. This is how we solved them:
This Seminar is Where I Learned to Work Harder
567 Academy showed me that being busy isn't the same as being productive. With the proven tactics, focused work block strategies, and easy-to-understand business systems – I literally went from spinning my wheels to cranking out more new products and ideas in one month than I had over the last 5 years.
This Seminar is Where I Learned I Deserve Success
567 Academy revealed the "patterns" I was setting up as roadblocks in my life – from all of the bad shit that happened to me in the past – and how they were all "self-imposed." (Trust me, they had seen it all before) They simply gave me the tools to quickly eliminate these patterns with the Re-framer protocol and success starting happening fast.
This Seminar is Where I Learned to Stick to a Schedule
I learned that I couldn't create new routines in my life unless I removed all of the stuff I shouldn't have been doing and all of the distractions. 567 Academy's Bridge Habits template made my daily schedule insanely productive and held me accountable. These new habits were easy-to-keep because I was checking in with the mastermind group every day!
This Seminar is Where I Learned to Truly Provide for My Family
Yes, money is important. But by reframing what money is – a reward for you adding value to others' lives – I was able to put it in its proper place. 567 Academy gave me the tools to eliminate excess money wasters and reconnect with anchors to be the Dad my kids needed and the husband my wife deserved.
This Seminar is Where I Learned I Needed Help
Well, obviously I wasn't doing too well since I was drowning every day in my own bullshit. They say if you want to go fast, go alone. And if you want to go far, go together. Another way of saying this is, "Only A**holes go alone." The biggest mistake I ever made was thinking that I didn't need any help. If you want your business and your personal life to literally explode, you need a team (567 Academy Mastermind). I mean, even the great selfhelp guru Napoleon Hill, raved about the power of a mastermind in his books.
This Seminar is Where I Overcame My Fear of Failure
When my old patterns starting creeping in about why I didn't deserve success and the fear of failure became overwhelming, Paul simply said, "Whenever you lose connection with your 567 (don't worry, you'll learn about this after you come to the seminar), fear creeps in and you lose focus"
Before 567 Academy:
I had no direction to improve my business.

After 567 Academy:
Since my joining my gym business has grown over 30% and the future looks great. This is just the start. IT'S NEVER OVER.
This Seminar is Where I Learned
You Have to Grow Before Your Business Can Grow.
More than anything, Paul taught me how to think and grow successfully in life and business.
After the last declaration was made at the end of Day 2, I was a different person.
A new man with a renewed sense of life and purpose.
I couldn't wait to get home, hug my kids and my wife, and let them know that there were going to be BIG CHANGES coming.
After 567 Academy, I literally felt like I had a chance at a new life.
A new beginning.
And it was true. This seminar is the reason I was able to quit my job and make my part-time fitness business a full-time dream.
I had techniques to stop procrastinating and end negative self-talk, I reconnected with my family on a deeper level, I had business systems that work BIG TIME, and now I had a group of guys backing me up – I felt invincible.
I wasn't alone anymore and I truly felt – for the first time in many years – that I was going tomake it.
Before 567 Academy:
I was very close to getting out of the industry and starting something new. Was working at planet fitness as a trainer because I needed to take the job to pay my maxed out credit card. Knew I wanted to own my own gym but was burnt out and broke.

After 567 Academy:
Fast forward four years and I just expanded my gym into my dream 3000 sqft facility and loving every second of it!
Now It's Your Turn to Experience this Life Changing Event
Now, I'm excited to invite you to attend this same event, and personally help guide you through the challenges holding back your business and your life.
This year, I'm personally helping Paul and his team host this event and together, we're going to work to…
Help you overcome the challenges holding you back…

Learn business systems and marketing strategies that work…

Transform the way you think about business…

Eliminate your self-imposed limitations…

Help you reach your why (that's what I was missing) …

Unlock an entire new level of productivity…

Make what seems impossible possible…

End your destructive habits of self-sabotage…

Show you how to truly provide for your family…

Guide you to unprecedented levels of personal growth…
All while you network with an unbelievably supportive group right out of the "who's who" list of fitness industry insiders!
This is your change to join me at this year's seminar!​
Before 567 Academy:
I had very little goals. I was clueless. Had no direction and was falling to really produce anything in my business. I was relying upon affiliate sales to make money.

After 567 Academy:
These days I feel like I am in command, like I can do whatever I put my mind to. I am more productive and have actual goals.Plus, I feel like my spiritual and family life are better than ever.
Join Me at the 567 Academy Seminar
Limited to 24 Spots ONLY
Here's What Happens at this Incredible 2-Day Event
Unlike other seminars you've attended or heard about, nothing at 567 Academy Seminar is template based or pre-prescribed.
Your experience, your business, and your challenges are completely unique. As I said before, my story my resonate with you, but the obstacles you face are entirely yours and yours alone.
That's why…
We work together as a team to help you address the problems you face and the challenges you need to overcome in life and business…

We individualize the blueprint you leave with to become a better person and a better business owner…

We show you exactly what's working now from a marketing perspective and a motivation perspective (just copy what's working and watch it work as your business grows)…

We help push you to succeed at the rate you'll respond to, giving you care when necessary, but toughness when you need it most…

We all will value your ideas, listen to your challenges, and work together to help you leave with confidence and a winning attitude…

We show you how to approach building, growing, or scaling your fitness business…

And your experience is 100% guaranteed (you get your money back if you don't like the event)
This isn't a "make money" seminar.
This isn't a let me talk about my garage full of Ferrari's marketing bro-fest.
This is a real experience, with a group of real people, all working together to solve the individual problems we face—guided by Paul and 567 Academy graduates and coaches.
Before 567 Academy:
I was very doubtful of myself and had little confidence. I was working at a commercial gym and they were basically robbing me right in front of my face. I didn't look forward to Mondays and counted down the hours until the weekend. At that time, I NEVER would of thought about opening my own place.

After 567 Academy:
Now I know what my purpose is. I know that this is what I was put here to do. I was put here not only to help people in the gym but to help them truly change their lives. I now realize it's more than just the training program and its about connecting with people on a much deeper level. There's no turning back for me now.
But this Isn't Just About Who You Become
It's Also About 
What You'll Do


To Achieve Your Business Goals
I know that I've been placing a lot of emphasis on personal growth—because there are a ton of barriers you have to overcome to actually step out there and ACT on your dreams to launch or grow your business.
Personal growth is a HUGE part of this event. You have to learn to think like an entrepreneur (a successful one). You have to learn how to leverage your time and manage all of your resources.
You're going to learn how to think like a business owner.
You're going to learn exactly how the biggest names in the industry manage their time, their businesses, and the incomes.
You're going to discover the mindset you need—how to build it, how to create it, how to make sure you have it (I can't say enough how HUGE this is because NO ONE ELSE WILL SHOW THIS TO YOU).
You'll be learning from the industry's best entrepreneurs how to do all of this PLUS…
Before 567 Academy:
• never believed in myself
• never took risks
• never valued myself
• let other people determine my worth
• large amounts of anxiety/depression-lived off of $500-$1400/month out of my beat ass car or with parents of friends willing to lend a hand

After 567 Academy:
• progressively increased my own self worth
• steadily increased income to a much more livable and now enjoyable amount (able to take vacations and do more fun activities)
• much more proud of who I am
• more capable to handle shitty situations
• happier and loving my life every day
You'll Create a Foundation for
ALL ASPECTS of Your Business.
Learn the Marketing Secrets of 7 and 8+ Figure Businesses
Do you want to know exactly how I'm attracting clients? Ready to take a look inside the marketing strategies of multiple 7 and 8 figure business owners? We're going to lift the curtain and explain exactly what we do, how we do it, and why we do it. You'll learn what's working now, what worked in the past but doesn't work anymore, and how you can use our techniques to build your own marketing game plan for success.
Swipe the Strategies of Today's Top Fitness Entrepreneurs
Online or brick and mortar, recurring memberships to one-off offers—you're going to learn exactly how today's top fitness entrepreneurs earn their income. If you're just starting out, you'll work with Paul, his team, and the other attendees to create your own get started blueprint. If you already have a business, you'll learn how to apply the strategies you'll learn to scale your business and get to the next level.
Create a Step-by-Step Blueprint for Your Success
You can read all of the books you want, take all of the online courses available, and join other mastermind groups—but until you sit down and work with fitness entrepreneurs who have been right where you are right now (and understand the unique challenges we all face), you're unlikely to get anywhere. At 567 cademy Seminar, we'll help you create a step-by-step blueprint for your success in business and beyond.
Address and Solve the Challenges Stopping You
This is why 567 Academy is different. No other exercise or learning environment directly addresses the challenges you face and obstacles telling you "don't get started." There are dozens of reasons you aren't taking action—dozens of challenges keeping you from applying what you've learned so far and what you will learn at this event— we're going to help you tackle and solve all of them. For me, this is what made the difference.
Add the Biggest Names in the Industry to Your Network
567 Academy gives you access to the biggest names in the fitness industry. Have a question? The most successful marketers and business owners in the world will be there to help you answer it. Your network is everything. It's time to add the biggest names in the industry to your personal and professional network of contacts.
Before 567 Academy:
• Ran a really good "Me me me!" business. I was able hit 6 figures revenue at 22-23 but really didn't have a damn clue what I was doing, and was struggling to hold that 6 figures
• too scared to charge what my company was worth and run the business like a business
• Literally didn't know how to have fun or take a break. I have no problem busting my ass 24/7 but for me the challenge has always been taking a damn break
• terrible lead generation that slowed my business to a halt at times. I could sign up anyone, but that was ME and not the business working

After 567 Academy:
• Nearly doubled business in 18 months, 4 employees and a team of 5 including me
• Systems driven business that works when I'm not there
• Several proven systems I can literally "turn on" for more leads
• I'm still working on having fun, but I take time off, do things with my wife, hang out with friends, and am really getting more"normal"
• Have a brotherhood of people that "get me", which, the further you get from being an employee that punches a clock or a"struggling" business owner, the more you'll realize you're a lot more alone then you think. GFGI is worth it for a million reasons more, but also a million times over because of the friendship, camaraderie, and having other people that 'get you' as friends.
Look at What You'll Discover as You Establish Your Foundation for Business and Personal Growth:
How to FINALLY BELIEVE IN YOURSELF, your ability to succeed, and lead your business in the right direction…
How to GET OVER FAILURES IN THE PAST, move on, stay motivated, and break through the ties to the past holding you back…
How to MAKE SUCCESS HAPPEN by breaking through your negative thinking and approaching the future in a positive light…
How to MANAGE RELATIONSHIPS, from business associates to friends, family and employees, I want to give you the ability to build trust and get out of toxic relationships…
How to DEAL WITH FAILURE and keep setbacks from holding you back forever (you're about to learn how to learn from failure) …
How to DEAL WITH SUCCESS and always keep moving forward no matter how satisfied your clients are or how much money you are making…
How to ELIMINATE TOXIC HABITS so you can profitably use your energy where it matters and not where it's holding you back…
And Much, Much More!
Before 567 Academy:
wanted to get a million clients, multiple locations and make a billion dollars

After 567 Academy:
I understand what's really important, where I'm headed and what I need to do to truly be successful
Your Business Will Never Outgrow YOU.
You Need to Invest in Who You Are to Get to the Next Level.
Your Business Will Never Outgrow Your Network
Meet More Influencers in One Minute Than You've
Reached in Your Lifetime.
Here Are Just a Few of the Lessons
You'll Learn When You Attend 567 Academy:
How to believe in who you are, your goals, and how to achieve success. Discover exactly how to build better relationships, plan for profit, and empower your business decisions so you can achieve prosperity…
Why your past is holding you back and how to "move on" to the present. Get ready to turn negative thoughts, failures, and past events into fuel for your future. Overcome your negative thinking and learn from mistakes you've made…
Improve client experience, satisfaction and results simply by turning around the roadblocks you currently face and applying them as lessons, morals, and coaching examples for your clients.
Dozens of destructive habit eliminators you can immediately use to get rid of the habits holding you back and replace them with healthy alternatives. You'll learn why your habits hold you back and how to overcome them…
How to have a life, family, friends and work at the same time. Put your life into balance with our unique set of tools, principles, and freedom-building techniques guaranteed to reduce stress at home and in your business…
You can actually STOP choosing between relationships and work using just 3 simple techniques we'll show you on the very first day of the 567 Academy (NOTE: Your will thank us!) …
The ability to overcome the toughest obstacles and challenges with a few real-world tested principles over 100+ 567 Academy members have already used to increase financial and personal stability by recognizing and taking advantage of opportunities to profit you currently pass up (often without even knowing it) …
Productive VS. Destructive Relationships – Do you know the difference? At the 567Academy we'll show you exactly how your relationships impact your financial stability and business success (and we'll show you now to eliminate destructive time-killing relationships from your life for good) …
And so much more! All over the course of 2 days of workshops, discussions, seminars, and group activities designed to help you get rid of the B.S. holding your life back.
Before 567 Academy:
I was a perfectionist and was heading in a lot of directions fast, none of which I  felt totally Comfortable with.

I had two gyms doing just over a half a million and my online stuff was a mess. Like a young jabronie that I was I expected things to fall into place overnight and was moving towards a market online I shouldn't of been in.

After 567 Academy:
I have four gyms and plan to be well over a 2 million dollar company by Jan 1 2017. I have realized my niche in this industry which I now understand exactly how to serve both offline and online.

I no longer go off in 100 different directions, I've actually learned to say no and focus! I have learned perfection is a myth.

I cut my mullet off but I plan to bring it back eventually.
Meet the Mentors Who Will Personally
Guide Your Transformation:
(They Are All 567 Academy Graduates!)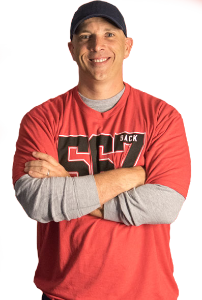 Paul Reddick
567 Academy Founder
Jason Ferruggia
Keynote Speaker
Jim Smith
Ben Stocks
Joe Meglio
GR Hoff
Ready to jump in and change your business forever?
Limited to 24 Spots ONLY
You're Not Attending Another Marketing Seminar,
You're Joining a Brotherhood.
Everyone teaching, guiding, and attending this event is part of the 567 Academy Brotherhood.
Together, we work to push each other to be better.
Together, we work to build better lives—to grow personally, professionally, and to add passion and purpose into everything we do.
Together, we hold each other accountable.
And there's not one of us that regrets becoming a member of this family.
You'll meet us all at this event.
And we will all work together, as brothers, to be your personal support system.
We're going to be in your corner, holding you accountable, and guaranteeing your success every step of the way. But…
Before 567 Academy:
I was not pushing myself to my full capabilities and the joy and passion that caused me to start on my journey had diminished.

After 567 Academy:
When I rejoined GFGI a year and a half ago, the spark was lit once again and the business has continued to grow in terms of my staff, our revenue and the happiness factor!
If You Read Nothing Else, Know This:
567 Academy Seminar is NOT for Everyone
Everything has a catch, and the catch here is that 567 Academy Seminar is not for everyone.
If you don't care about making yourself better, don't attend.

If you don't care about helping and supporting others, don't attend.

If you aren't ready to seriously think about what's holding you back, don't attend.

If you aren't prepared to have deep realizations about who you are, don't attend.

If you're content to keep wasting your time or procrastinating, don't attend.

If you are happy with a soul sucking job, endless hours of hard work that never pay off personally, and a lack of a "why" in your life, don't attend.

If you are ready for another marketing pitch fest where 12 gurus get up and try to sell you something, don't attend. That's not what this is about.
I'm saying this because seminars like this have a stigma. You expect to go to these things, get out a notebook and learn how to make more money.
You expect to hear guys talk about all the latest strategies and toolkits and blueprints and more…
We'll talk about those things, sure. But what you really need to do is be prepared to grow as a person first, to learn what's holding you back and how to change.
Before 567 Academy:
I was in college with no business, location, or plan. I just knew what I wanted to do and needed a road map and support to get there.

After 567 Academy:
• Team of 6. 2 full time coaches
• moved into dream 9,000 sf facility in Feb
• steadily grossing 35k+ per month
• about 230 members that are raving fans
• built a great business with a great reputation in our community bought new house in May and am able to provide and spend quality time with my wife, building for our future
It Doesn't Matter If…
If you're NOT in the fitness industry already, you can still attend. Show up, and get the roadmap that takes you from zero to living your dream. We've all been at zero before. We know how to get where you want to be.

If you don't have an online business, you can still attend. Everything you'll learn will take your business to the next level—these aren't online only techniques.

If you don't have a brick and mortar business, you can still attend. Again, everything you'll learn works online or offline.

If you have no clue what your why or goal or purpose is, you can still attend. We're going to help you put words to the what am I missing feelings holding you back.

And no matter how you define "success," you can still attend. If your goal is just to "make money," if that's your why—we'll get you there. If you goal is to be free from work— we'll get you there. If you goal is to have more time for family—we'll get you there.
All That Matters is This:
If you are ready to be transformed, you will attend and leave transformed
.
You will have a purpose that's clear—one you can share with your family and follow. You will know what your goals are.
And you will know how to get there.
At 567 Academy you will create (and leave with) …
The Mindset You Need to Build Your Dream Business

The Tools You Need to Make It Happen

Marketing Resources and Practically Done for You Business Building Blueprints

Connections to an Incredible Support Network
You're about to get access to everything you need to turn your business dreams into reality.
You will be able to live the 567 Academy principles every single day and after you join the mastermind, you'll have a group of guys that will have your back and keep you moving forward.
567 Academy is a life-changing event that will make you a new man, a new entrepreneur, and a new business owner.​
This is an Investment I'd Make Over Again
Even at 10+ Times the Cost of Attendance.
I'm sharing this incredible program not because I'm a part of it, but because of what it did for me.
I had always hoped that I could build the business of my dreams and still have family time.
At the end of my first 567 Academy I made a commitment and declaration to the group, "I would quit my corporate soul-sucking, horrible, mind-numbing job before my birthday of that year."
And two weeks before my birthday that year, I quit my job.
567 Academy Gave Me the Business Blueprint I Needed

It Taught Me to be a Better Marketer

I Learned to Be an Effective Entrepreneur

567 Academy Gave Me the Confidence Required to Succeed

PLUS, Access to a Brotherhood of Business Owners Who MADE SURE I FOLLOWED THROUGH
These are the reasons why I get so excited for this event every year—because this is the event that build my career as a fitness entrepreneur.
567 Academy was different. It was something that changed me forever.
How Much are the Marketing, Business Building, and
Motivation Secrets of the World's Most Successful
Fitness Business Owners Worth?
Ask yourself honestly how much it is worth to attend an event like this.
How much would you pay?
Take a look at the list of entrepreneurs who are about to hand you the key to their businesses: 
You're going to sit down with each and every one of these fitness pros as they explain to you what they do and how they do it.
You'll ask questions, you'll get answers, and you'll learn exactly how to apply the techniques they are using to grow their businesses into your own.
If you're just starting up, this experience is invaluable. Less than 1 year after attending 567Academy Seminar, I was able to quit my day job and work for myself full time.
If you already have a business, you can't afford to miss this event. I attend every year just to see, hear, and talk about what other entrepreneurs are doing. Without this event, there's nearly no way to know what's going on behind the scenes.
It's incredible.
This is not an experience anyone interested in building a fitness business can afford to miss.
It's Time to Join the Brotherhood of
567 Academy Graduates
Transforming the Fitness Industry.
If 567 Academy sounds like something you'd like to attend, I encourage you to click the link on this page and reserve your seat today.
Space is limited to just 40 of attendees, so it is important to quickly make your decision.
I know for me, it took years of working way too hard to achieve just a fraction of what I have today. It wasn't until 567 Academy that all of that changed.
The reason I told you this (and my story) is because I don't want you—or anyone who really wants to live the dream I'm fortunate enough to have because of 567 Academy—go through years of family-destroying, life-killing work to get nowhere.
If you really want to build your business, if you're like I was and you just want to get rid of that soul sucking 9-5 and do what you love, or if you're ready to learn about the personal limitations holding you back (and how to overcome them), you should reserve your seat right now.
This event only happens once a year.
Personally, I think the relationships you'll make alone are worth it.
Space is Limited,
The Experience is Not.
Your business is not going to grow until you grow—
—and you have to learn to grow.
You have to learn to overcome the obstacles and limitations holding you back. You have to learn to grow your network and your support system, You have to learn to let your mindset grow and expand. And you have to learn how to recognize and eliminate the self-imposed roadblocks you've set up for yourself.
I learned to grow by attending 567 Academy Seminar.
I'm still growing because of it.
It was the best decision I made for my business.
It was the best decision I've ever made for my family.
Join me at this year's seminar and I'll help you grow in life and business.
See You There,
Smitty
PS. The story above is 100% true and real. It is my life and I will tell you about it when you come to 567 Academy.
PPS. If you ARE ready… then let's get started on changing your life forever. Grab your seat at 567 Academy now and we will do the rest.
PPPS. If you ARE NOT ready…then sign up and we'll get you ready.
Reserve Your Seat Today
Limited to 24 Spots ONLY
Your Experience is Guaranteed.
100% Money-Back Promise.
Registration for this exclusive event isn't free, but when you click below, register, and decide to take advantage of this exclusive invitation to attend, we'll offer this absolutely RISK FREE money-back promise:
If you're not satisfied for any reason, at any point – before, during or any time after the 567 Academy…
You'll get 100% of your registration fee back.
We're so confident that you'll learn how to overcome the obstacles standing between you and a better business, more free time, and an improved personal life that we'll give you 100% of your money back if you don't see results.
Questions?
Here are the answers to our most frequent questions:
What if I need to cancel or want my money back?
Mark Tenney
2017-08-31T10:48:23+00:00
We get it, sometimes life gets in the way. We've been there. If you need to cancel anytime before the event, just shoot an email over to andres@paulreddickbaseball.com so we can open up your spot for someone on the waitlist.
If for some reason you get to 567 Academy and decide we're not the right for you after day 1, just let any of our guys know and not only will we give you your money back, but we'll also give you a $200 travel credit to help you get back home.
We want you to be completely comfortable when you register for 567 Academy today so we've put the risk 100% on us. Sounds fair, doesn't it?